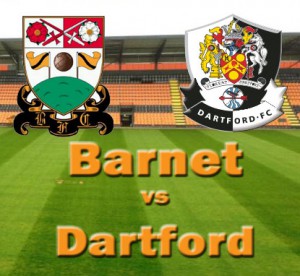 Da var det klart for August Bank-Holiday Monday, og idag er det Dartford som kommer på besøk til The Hive. Gjestene ligger som forventet langt nede på tabellen, etter 2 poeng på de første 4 kampene, og burde ikke være noen målestokk for et Barnet-lag som bortsett fra kampen mot Lincoln har virket veldig solide.
Jeg forventer at Martin Allen fortsetter med den 11'eren som har startet de 3 kampene som har blitt vunnet til nå, og det betyr at KMB nok en gang må innfinne seg med en plass på benken. De store mysteriene til nå denne sesongen er Luisma og Luke Gambin. Luisma var på benken i de to første kampen, og kom også innpå i den første. Han har vist seg som en viktig kreativ spiller for laget, det meldes om at han stortrives i klubben, og han har nettopp signert en ny kontrakt. Er han småskadet, siden han ikke en gang har vært på benken i det siste. Luke Gambin er et nesten enda større mysterium. Den eneste gangen han har vært med i kamptroppen denne sesongen var i den tapte kampen mot Lincoln, hvor han kom inn på og var veldig nære å snu kampen i Barnet's fordel  med en sterk opptreden. Men neste kamp var han borte ifra benken igjen. Når jeg traff Luke på The Hive, så virket han ikke helt fornøyd, men han skjønte at det var mye konkurranse for plassen har han kjemper om.
Dette bør bli grei skuring for Barnet, som klatre enda høyere på tabellen etter idag.
Suspendert:
Ingen
Ute med skade:
Iffy Allen
Usikre etter skade:
Ingen
Utlånt:
George Sykes
Dagens tips: 4-0
Forventet lag-oppstilling:
Graham Stack
Andy Yiadom – David Stephens – Bondz N'Gala – Elliot Johnson
Mauro Vilhete – Curtis Weston – Sam Togwell – Lee Cook
Charlie MacDonald – John Akinde
Innbyttere:
Jack Saville, Keanu Marsh-Brown, Luke Gambin, Sam Muggleton, Jamal Lowe