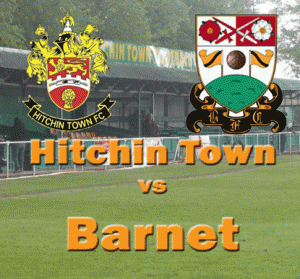 Det var et reservepreget Barnet-lag som hadde tatt turen til Hitchin. De hadde fått med seg noen prøvespillere også, og en av de gjorde seg sterkt bemerket. Den fotrappe nederlenderen Marciano Mengerink viste hvorfor Barnet jobber hardt for å få ham spilleklar, og scoret to mål og fikk i tillegg tildelt et straffespark.
Straffesparket kom på stillingen 0-0, og selv om George Sykes plasserte det langt nede i hjørnet, så var Hitchin's keeper der, og reddet.  Men snart satt endelig 1-0 for The Bees, og det var Marciano som satte ballen i mål, etter at Mauro Vilhete's heading var blokkert av en forsvarer. Samme Marciano økte til 2-0 før pause, med en vanvittig volley som vil bli husket lenge av de som var der og så den.
Andre om gang var en heller kjedelig affære som bortsett fra Mauro Vilhete's 3-0 ikke vil bli husket for mye. Billy Lobjoit hadde et positivt innhopp, og Marciano var nære å score hattrick.
Vurdering av prøvespillere:
Nick Jupp – Hadde full kontroll hele veien, og viste at han er en god keeper
Claudiu Vilcu – Virket solid i stopperspillet sitt
Roberto – Virket uinteressert og hadde ingen god dag
Luisma – Som ovenfor, bare enda verre
Marciano – Viste virkelig hva som bor i ham, og selv om motstanderen ikke var stor, kan vi håpe at dette tyder bra.
Billy Lobjoit – Satte fart i kampen når han kom inn, og skapte enkelte farligheter
30.07.2013 Hitchin v Barnet 0-3 (0-2)
Tilskuere: 338
Mål:
0-1 Marciano Mengerink '20
0-2 Marciano Mengerink '43
0-3 Mauro Vilhete '61
Lag-oppstilling:
Nick Jupp
Mauro Vilhete
Claudiu Vilcu
Jordan Brown
Tanasheh Abrahams
Roberto Garcia Casabella (Abdulla '46)
Dominic Vose (Warren '56)
Luisma Villa (Lobjoit '56)
Marciano Mengerink
Iffy Allen (Lowe '60)
George Sykes (Nurse '60)
Innbyttere:
Jamal Lowe
Ahmed Abdulla
Freddie Warren
Billy Lobjoit
Jon Nurse