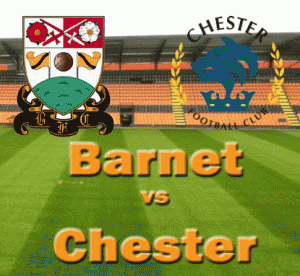 Da var serien i gang, og det var nok mye premiere-nerver ute å gikk. Motstander Chester var veldig suverene i Conference North forrige sesong, så det var spennende å se hvordan spranget var mellom det to lagene. Edgar Davids har vært borte ifra trening flere dager denne uka, så han holdt seg til dressen idag. Anthony Acheampong måtte stå over idag, men regner med å være tilbake på tirsdag.
Kampen started litt nervøst, og det bølget fram og tilbake, men uten de helt store sjansene. Men venstrebacken til Chester kommer nok til å ha mareritt om Keanu Marsh-Brown i lange tider framover. Han herjet virkelig med ham, skapte til tider mye. Men det sto seg 0-0 til pause.
Allerede 46 sekunder ut i den andre omgangen så var Luke Gambin frampå og satte målet med betydning på The Hive, etter fint samarbeid mellom Jake Hyde og Mark Byrne. Chester forsøkte å komme seg tilbake i kampen, men det var Barnet som økte til 2-0, når Jake Hyde satte inn Mark Byrne's innlegg. En livlig Keanu Marsh-Brown satte nesten inn 3-0 rett før han ble byttet ut, og inn kom Luisma. Han seg bemerket med en gang, og fant Jake Hyde med en gjennombruddspasning, som sistnevnte eksperderte i mål til 3-0. Og det ebbet ut som sluttresultatet i en perfekt sesongåpning for The Bees.
10.08.2013 Barnet v Chester 3-0 (0-0)
Tilskuere: 2,543
Mål:
1-0 Luke Gambin '46
2-0 Jake Hyde '63
3-0 Jake Hyde '73
Lag-oppstilling:
Graham Stack
Andy Yiadom
David Stephens
Jack Saville
Elliot Johnson
Roberto Casabella
Mark Byrne
Curtis Weston
Keanu Marsh-Brown (Luisma '68)
Luke Gambin (Mengerink '77)
Jake Hyde (Crawford '84)
Innbyttere:
Mauro Vilhete
Marciano Mengerink
Harry Crawford
Luisma Villa
Nick Jupp