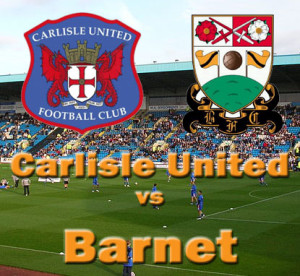 Hvordan Barnet klarte å tape denne kampen er totalt uforståelig. Etter kampen står det 28-9 til Barnet og 11-5 i skudd på mål. 2 ganger i tverrligger og 2 redninger på streken var blant beholdningen.
Hjemmelaget tok ledelsen før det var gått to minutter når Tom Miller headet inn et frispark ifra lagkaptein Danny Grainger. Barnet slo tilbake på direkten men Michael Gash klarte ikke stokke beina, så ballen trillet inn til keeper. The Bees forstatte å imponere og Bira Dembele traff tverrliggeren på en god corner ifra Togwell, og returen ble også reddet. Når det så ut til at Barnet-presset skulle føre til mål, så stakk Derek Asamoah igjennom, og selv om Jamie Stephens klarte å forsinke ham litt, så klarte han ikke hindre ham i å score. Nå så det virkelig stygt ut for Barnet, men plutselig så var Dembele der og stanget inn en redusering. Og bare 2 minutter senere så var Gash på plass å satte inn sitt første ligamål, så Barnet kom ajour. Da lagene gikk til pause, så var spørsmålet hvordan Barnet egentlig klarte å la være å lede kampen på dette tidspunktet, og det var enighet om at det etter denne opphentingen.
Men selv om Barnet også hadde overtaket i 2. omgang, så ville hjemmelaget det annerledes, og det var Derek Asamoah som etter en drøy time satte inn det som skulle ende opp som seiersmålet.
05.09.2015 Carlisle v Barnet 3-2 (2-2)
Tilskuere: 4,925 (Bortesupportere: 132)
Mål:
1-0 Tom Miller '2
2-0 Derek Asamoah '19
2-1 Bira Dembélé '29
2-2 Michael Gash '31
3-2 Derek Asamoah '64
Lag-oppstilling:
Jamie Stephens
Andy Yiadom
Bondz N'Gala
Bira Dembélé
Elliott Johnson
Mauro Vilhete (Tomlinson '67)
Sam Togwell (Muggleton '80)
Curtis Weston
Luke Gambin
John Akinde
Michael Gash (McLean '67)
Innbyttere:
Gavin Hoyte
Michael Nelson
Ben Tomlinson
Tom Champion
Sam Muggleton
Aaron McLean
Kai McKenzie-Lyle