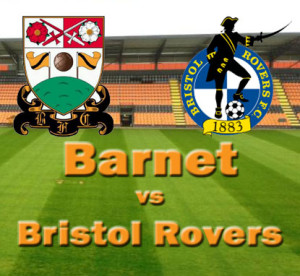 Det fleste hadde regnet Bristol Rovers som et av de sterkeste lagene i Conference denne sesongen, så det var forventet at Barnet skulle få det tøft i sesongens første hjemmekamp. Men det var et Barnet-lag som tok fatt på oppgaven med selvtilliten som 5-0 seieren i bortekampen mot Chester hadde gitt. Martin Allen hadde valgt å stille med en uendret 11'er, og det viste seg et godt valg.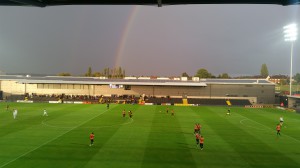 Uværet hadde gjort forholdene vanskelig, og det tok en stund før kampen virkelig satt seg, men da var det med Barnet i førersetet. Og når Bristol Rovers kom på en sjelden visitt, så var Barnet farlige på kontringer. Det var en sånn som skapte kampens første mål. Barnet-forsvaret klarerte ballen ut til kaptein C-Mac, som igjen spillte en fin stikker til sterke John Akinde, som på Playstation-vis sprintet ifra Rovers-forsvaret, og banket ballen forbi keeper, og dermed scoret sitt første Barnet-mål. Etter dette så fortsatte Barnet presset, og rett før pause, så trakk Mauro Vilhete med seg ballen inn i midten, og fyrte av et vanskelig skudd. Rovers' sin keeper reddet, men ga en klønete retur, og der var C-Mac på plass og satte inn 2-0 i tomt bur.
2. omgang ble en relativt kjedelig affære, hvor Bristol til tider hadde mye av spillet, men det føltes aldri som om seieren var truet. Og stort sett hele kampen, så runget «We're top of the league» på tribunen (Klippet her, er hentet ifra Chester kampen, men det gjør nytten sin).
Kampen den ebbet ut med 2-0 seier til Barnet, og min Serie-åpningstur hadde endte med Serieledelse, 6 poeng og 7-0 i målforskjell.
12.08.2014 Barnet v Bristol Rovers 2-0 (2-0)
Tilskuere: 2,027 (Bortesupportere: 663)
Mål:
1-0 John Akinde '22
2-0 Charlie MacDonald '43
Lag-oppstilling:
Graham Stack
Andy Yiadom
Bondz N'Gala
David Stephens
Elliot Johnson
Mauro Vilhete
Sam Togwell
Curtis Weston
Lee Cook
Charlie MacDonald (Nurse '90)
John Akinde
Innbyttere:
Jack Saville
Keanu Marsh-Brown
Luisma Villa
Sam Muggleton
Jon Nurse