Kveldens kamp mot Hendon ble flyttet til The Hive, grunnet problemer med forholdene på Harrow Borough's bane hvor Hendon skal spille sine hjemmekamper iår.
Barnet stillte med et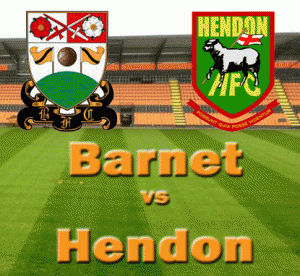 reservepreget mannskap, hvor ungguttene skulle få prøve seg, itillegg til prøvespillere. Men det var et kjent ansikt som fikk hull på byllen for Barnet. Jake Hyde, som scoret det siste offisielle målet på Underhill, ble også den første offisielle målscoreren for Barnet på The Hive, når han satte ballen i nettet etter godt forarbeid av Jack Saville og George Sykes. Samme Sykes økte til 2-0 senere i omgangen, når han presset Hendon's keeper, og taklet ballen i mål. Rett før pause var tidligere Barnet-spiss Anthony Thomas frampå og satte ballen for Nick Jupp, som prøvespilte i Barnet-målet.
Den andre omgangen ble en rolig affære helt til Dominic Vose satte inn 3-1 etter glimrende forarbeid av Jamal Lowe, som hadde kommet inn for Iffy Allen i pausen. Og helt på tampen så var Jack Saville på plass og headet inn sluttresultatet til 4-1.
Igjen så imponerte Luisma Villa stort på prøve. Så vi får håpe at klubben klarer å få underskriften til den spennende spanjolen.
23.07.2013 Barnet v Hendon 4-1 (2-1)
Mål:
1-0 Jake Hyde '24
2-0 George Sykes '33
2-1 Anthony Thomas '44
3-1 Dominic Vose '71
4-1 Jack Saville '89
Lag-oppstilling:
Nick Jupp
Tanasheh Abrahams (Abdulla '46)
Jack Saville
Jordan Brown
Mauro Vilhete
Dominic Vose
Roberto
Luisma
Iffy Allen (Lowe '46)
Jake Hyde (Marciano '69)
George Sykes (Marsh-Brown '72)
Innbyttere:
Ahmed Abdulla
Jamal Lowe
Marciano
Keanu Marsh-Brown