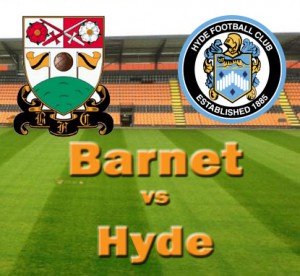 Dette er en kamp som alle forventer at Barnet skal vinne, og det kan være farlig. Topp mot bunn når klubben som ligger på 21. plass kommer på besøk til The Hive. Hyde startet sesongen med å få juling 0-8 av opprykks-favoritt Forest Green, og har etter det nøyd seg med to uavgjorte og 2 ett-måls-tap.
Barnet på sin side gikk til topp på «August Bank Holiday», som de også gjorde i opprykkssesongen i 2004/05. Den gang ga de aldri ifra seg ledelsen igjen, noe jeg tviler på at de klarer å gjenta.
Forrige kamp ble Roberto Casabella hvilt, mens Elliot Johnson var ute med sykdom. Luisma var fortsatt ute med skade. Det forventes at alle disse tre nå er klare igjen, men Harry Crawford gjorde en så god jobb på midten at det blir vanskelig å sette ham ut.
Dagens tips: 3-1 (håper de klarer å holde momentet oppe)
Forventet lag-oppstilling (Jeg går for det kjeldelige):
Stack
Yiadom – Stephens – Acheampong – Johnson
Weston – Roberto
Marsh-Brown – Byrne – Gambin
Hyde
Innbyttere: Jupp, Saville, Crawford, Luisma, Mengerink